Silent Disco Equipment Hire Across NZ
A Silent Disco is a festival favourite around the world and an awesome way to create something a little different at your special event or party. Even better, you can rave into the night without loud music disturbing the neighbours!
Kiwi Silent Disco offers packages of transmitters and up to 450 headphones to rent for weddings, birthday parties (both for kids and adults!), festivals, corporate events and other silent events throughout New Zealand. Check out the packages available here: https://kiwisilentdisco.co.nz/silent-disco-hire-rates-prices/
All you need to do is plug in your music – be it a couple of phones/ipods with your favourite party playlists, or a couple of DJ's set-up to battle it out.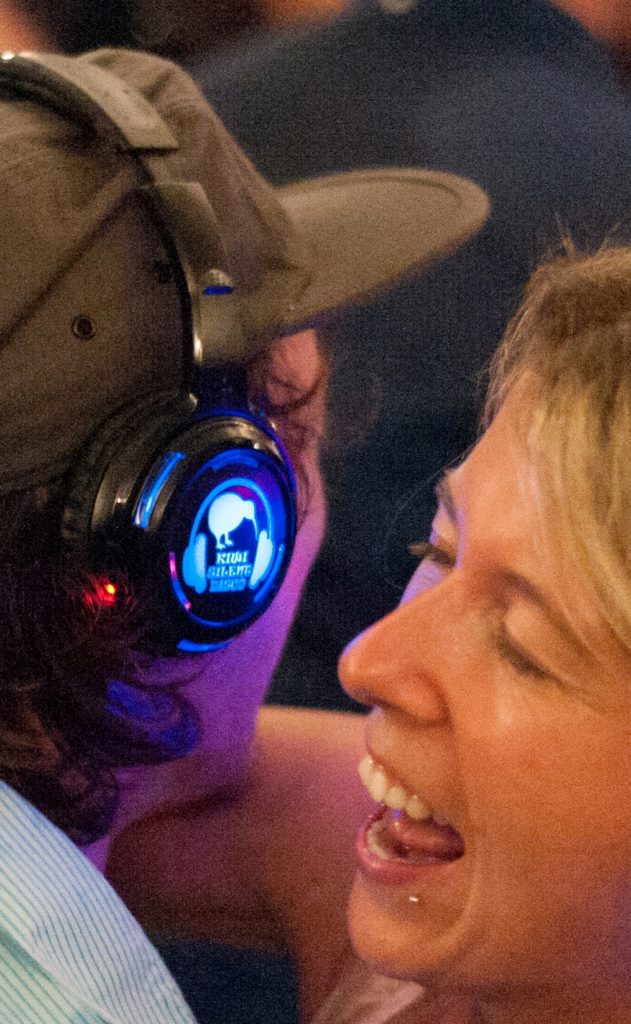 If you haven't experienced a Silent Disco before, then it might sound quite strange…
You've got to try it to see how awesome it is!
Here are some of the things we love about it:
To get the same kind of atmosphere without headphones, you'd need a massive sound-system. With a Silent Disco system there's no amplified music to annoy the neighbours. N.B. 'Silent' might be a bit of a stretch though – everyone singing along to the music

will

make some noise, so be considerate!
With up to three different channels, people with different music tastes can be dancing away together. You can have someone bouncing away to 90s trance whilst someone else is skanking to some NZ dub reggae and others are singing along to their favorite cheesy tunes.
Don't like the current song? Just try another channel.
Someone else looks like they're having more fun? Try the channel they're on!
Some people like their music loud, others like it quieter – This is easy to control on your own headset.
Want to have a conversation with someone? Simple, just take your headphones off… and the best bit – you won't have to cover them with spittle as you try to yell over loud music!
An awesome feature of our systems is that they can be run without mains power – so if you fancy a silent dance party on a beach, in the bush or even at the top of a mountain – you can make it happen!
One of our clients recently put it better than we could,
"It is just SO much more than an alternative to a speaker/PA system. It is a whole new experience. Everyone loved it"
There are so many other applications of the technology:
Fitness/Activity Classes, Yoga etc…
School Balls
Conferences
Translation Services
Art installations
Open-air movies / silent cinema
Kids birthday parties
Guided tours
Follow us on:
Facebook: https://www.facebook.com/kiwisilentdisco/
Instagram: https://www.instagram.com/kiwisilentdisco/